I am sitting at my favorite café one Friday late afternoon, sipping my latte, mid-way through my cannoli when my eye catches a group of women laughing across the street, enjoying their happy hour time together. It occurs to me then as I have a Carrie Bradshaw moment, one from when she was in Paris lonely for her friends back in New York and spots a group of French women laughing together at a luncheon, that much of life's stress comes from an imbalance in quiet. Not enough quiet and your life is a hectic bobble of keeping balls in the air, balancing work, kids, traffic, life. But too much quiet has it's own kind of chaotic loneliness. As a childless extrovert who works from home with a partner who travels a lot for work, it is my current quest, it seems, to have less quiet in my life. I realize how this sounds, and the privilege it carries with it. But I say it not to complain, but to acknowledge that there a lot of people who experience this kind of quiet too often, too long, and too deeply, and they aren't all privileged white girls who crave connection. I daydream about some ap or tool that connects those with not enough quiet with those who have too much quiet. Elderly. People who are sick. People who have lost someone, have an empty nest, are new to their city, singles, people on temporary work assignments or fulfilling family duties, the list goes on. Eight years ago, seeking other professionals working from home, I started a meetup. This was largely before the work from home movement took off. My little meetup drew 50 members the first week! My point is we're all looking for the same thing – connection.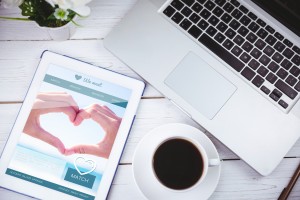 I look around the café for a moment eyeing solos working quietly on their laptops, business women making deals, old friends reconnecting and laughing, families herding their sticky-handed toddlers away from walking into the yoga class in session next door and realize that quiet and aloneness goes in phases of life. My life hasn't always been quiet. There were nearly 2 decades of 90 minute commutes to work, running from work to the gym in the evenings to try to let the traffic die down before heading home, there were two bouts with working full time and going to school full time. (I'm so grateful and yet wouldn't do it again). There was a year where everything that could go wrong did go wrong and my body eventually crashed. There were stints in Chicago, Phoenix, San Francisco, and San Diego. Learning each city, getting to know it and it's vibe like a stranger who becomes a friend after some resistance. There were the poor years, working nearly round the clock to be able to afford my rent and my car on a teacher's salary. What I would have done then for the kind of quiet I have now most days, most of the time! I laugh at this, catching the eye of the café owner, who smiles at me warmly. See. Everyone wants connection.
Then I realize I have a blob of white cannoli on my shirt and internally shrug it off as I wipe it away with napkins. I look up. The café owner has moved on, apparently unaware of my sloppiness. The good thing about being in a high phase of quiet is no one notices when you spill on yourself, as I'm prone to doing. The bad thing is that no one notices when you're sick, having some kind of crisis, or even just a bad day either.
I am not looking for solutions to this quiet. I know there are many options and it's on me to reach out ("You can come over anytime!"), to get involved (I started another meetup six months ago and have yet to have our first meeting), to give back (I have had not one but three TB tests done so that I can volunteer in the schools in my community and have been to exactly one school once). There are book clubs and choirs to join, dance classes to take, writing groups to start, social groups to connect with. I'm not making excuses here. It's all okay and just as it's supposed to be right now. What I am becoming aware of is just how much of an impact an imbalance in quiet has. Not just on me, but on people on the other side of it too. I have friends with a newborn, who are happy and exhausted because they are always on. I have family members with 3 kids and 2 jobs who have about 5 minutes a day to themselves. I have colleagues who are raising kids with their working spouses, balancing work, kids' school, activities, and life. And I don't know how they do it and I'm pretty sure I couldn't do it. At least not as beautifully as they all are. And yet, I am realizing in this moment as I sit here in this café that I'm not sure I want to do this phase of high quiet anymore either. Maybe it's time to go back to one of the above mentioned solution ideas.  I feel no anxiety or pressure about this. As I said, this phase has been here for a reason, perhaps as a recovery space from some of the earlier high, non-quiet years. I think about this for a moment, feeling oddly grateful, and glance around the café. There above the espresso machine is a quote that reads,
The only real voyage of discovery consists not in seeking new landscapes but in having new eyes. – Marcel Proust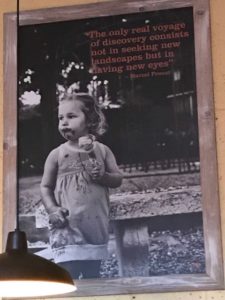 I think to myself, "I don't know you Mr. Proust, but," I spontaneously raise my latte to toast his quote, "here's to the voyage my friend."