The Relationship Red Flags Mini Book is a mini book specifically about red flags that examines why we ignore red flags, what we can do about them, and how to know the difference between red flags and deeper issues.
The Relationship Red Flags Mini Book is a compilation of my writing about red flags from my book, Girls' Guide to Healthy Dating: Between the Breakup and the Next U-Haul, as well as articles, posts, and some new pieces. My hope is that by providing a small book that looks specifically at dating red flags that my own experience may help you know you are not alone. After all, it's our shared experiences that connect us all.
Find a book event in your area.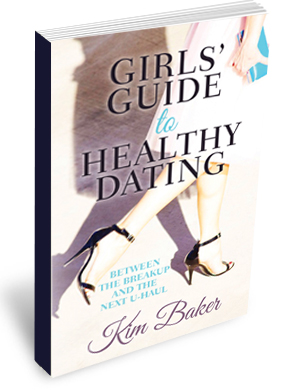 For ages, women have gathered around restaurant tables with friends to begrudge the perils of dating as a lesbian.
We don't know how to date.
We relationship hop.
We don't process our past relationships.
Drawn from mindfulness and the law of attraction, Girls' Guide to Healthy Dating unveils what we intuitively already know: if we really want to change our dating experience, we have to change the way we approach dating.
By focusing on getting to know women to identify compatibility, we create more healthy dating experiences, are more likely to notice red flags and deal breakers, and ultimately are more likely to find the one.
Unlike other dating advice books where a relationship expert imparts knowledge on to the reader, Kim Baker uses a Sex in the City laid back voice to explore six powerful strategies for revolutionizing how we search for the woman of our dreams.
See Curve magazine's book review
The Buzz
Many of the concepts in the book go beyond lesbian dating. – Jennifer W.
I really enjoyed your voice because you showed vulnerability but ultimately come from a position of strength. –Julie P.
I think your book has very good advice for any lesbian who has ever had her heart broken and wants to move on to a new life in dating (so many of us). – Lynda