I am sitting in a writing conference session, tired and completely distracted with inauguration nonsense. I take a sip of coffee as the presenter begins her talk. Within a few moments, I'm completely drawn in by the presenter, Sheri Fink, best-selling author of the Little Rose. Throughout her one-hour talk I'm struck by one thought over and over again: she is doing exactly what she's supposed to be doing. Her authenticity is utterly inspiring and delightful. She begins by sharing her story of being bullied in her workplace, a traumatizing time that would eventually springboard her into writing a series of lovely children's books addressing bullying head on. Her books share one theme: be yourself. While a  I don't personally know Ms. Fink, after experiencing her joy for sharing what she does, I am certain of 2 things when I leave her session: 1) I will buy her books for my  nieces & nephew and support whatever she does going forward and 2) I'm newly inspired to continue to explore ways to be more authentic myself.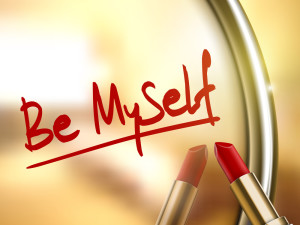 I can't help but wonder how authenticity relates to dating. I find one potential answer in this MBG article on attracting a conscious partner. Relationships are the ultimate test for staying true to ourselves. How do we balance being part of a team with respecting ourselves and maintaining our independence? This is a big question that I hope we wan explore together as we practice being authentic this year and every year.
How do you practice authenticity in dating and in life? I'd love to hear from you. Please share a comment in the comment box below. In the meantime, choose love. Choose you.
Also, in the spirit of being authentic, here are some photos of a local library event where a copy of my book was added to the shelves. If I'm being real, I'll admit that it was straight up trippy.